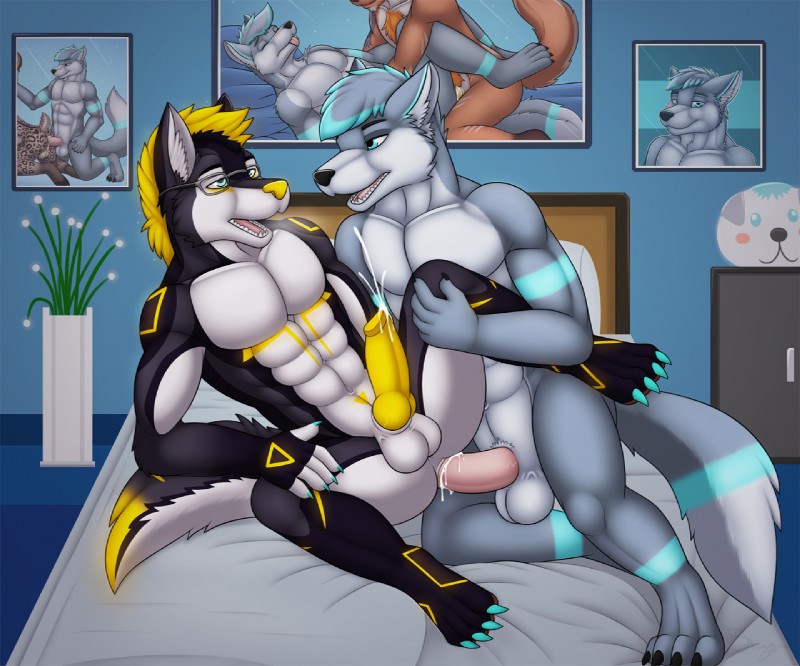 ▼ Description
This scene is a part of DNS Audition Beta project that allow you to have fun with one of my porn star boys, Mr. Neffler.
Commission done for FA user : volgathewolf
Volga, the wolf, belongs to him
Neffler, the mountain dog belongs to me :Dregna
It's been for awhile since Neffler became a part of my porn star family. He was a quick learner who pushed himself become a popular male in a few month. Many customers came to my company for getting to know him, they even asked me for a permission to let them having good time on a show with Neffler. Most of them willingly let me to film and watched their show as a temporary porn actor because Neffler could work himself in many kind of role. He could be a sub or a dom guy at the same time so it was not hard for him to make people fell in love.
Sometime my customers tried hard to get a contact with my boy and I did not mind about that. The more people came to Neffler, the better chance to get more gay adult movies.
Until now, Neffler is really happy with his life. He have his own fanclub (FC) and good friends from different countries. Because of his kindness attitude, everyone in his FC always love him and have a dream of having sex with this hot guy once.
Fortunately, Neffler has decided to open his room for a private meeting with a choosen guy in his FC. His private meeting will be open only one or two times in each month.
Volga, the wolf guy, was a choosen one last month. Neffler gave him a warm welcome and took him around the DNS company to let him study his work very close. Volga could not help as he got aroused everytime he saw a couple of males haxing sex on a stage. Neffler noticed that kind of reaction and took him to visit his bedroom as a last stop.
"I have to say Congratulation Mister Volga...before the end of our private meeting, I will be gladly to reward you..." Said by Neffler as he closed a door then relaxed himself on a bed "Let's show off and have fun...I will show you how a popular porn star work on a stage"
Volga did not waste the time to strip as he was already hard for the hot guy, He got closer to touch Neffler's naked body and watched that porn star cock growing to its full erection.
"I need to feel your cock in my hole, Mister Neffler...could you please reward me by that ?" Volga panted and begged his favorite porn star as he could not control himself any longer.
"As you wish, my good FC..." Neffler grinned and started making a move as his cock was ready to pound someone's rear.
If you want to be a lucky guy like this one, contact me anytime heheh. :D