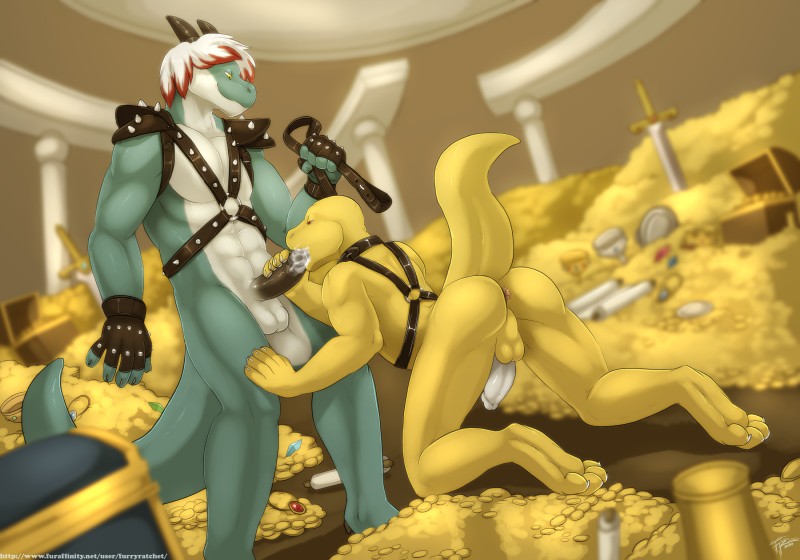 ▼ Description
Someone´s going to earn his payment
Description by Surasshu
When you think, making a nap inside of your treasure chamber on your birthday is not a good idea, check out, who tried to steal some of my beloved gold-thingies?
But maybe we can make an arrangement, after some hard work.
_________________________________________________________________
Finally, after almost a year I managed to get one of my three raffle-arts of the last year done!
This one is with the winner of my Sofurry-raffles called Casanova featuring his yellow lizard-dude named Casa.
The artwork was done by the amazing furryratchet which did a great work on this one here as well.
Surasshu is © me
Casa is © Casanova
Artwork is © Furryratchet
▼ Casanova's note
Surrashu was hosting Four image raffles: Two on FurAffinity, two on SoFurry. Each site you had a choice between Surrashu himself or his predator character. All participants in Surrashu's raffles had to provide him with a detailed description involving their preferred character, and Surrashu picked up the full tab for each image. Originally, this was not meant to be in color, as the two on FA were in color, and the two on SoFurry were monochrome. However, because I was the only entrant on the entire SoFurry side, I got upgraded to a color image.
Upon receiving the image, I was mostly estatic. There were a few differences from my written description, but because those were relatively minor and Surrashu paid the full tab, I didn't raise any complaints. Things like that shouldn't be complained about as my description still shows thriugh here. There was one issue that, whle not truly complaining about, I did try to get info as to how the error happened. The error? Casa's legs. To date, this is the only image on the web where Casa has either digitigrade legs or 4-toes feet.
Politely and respectfully asking FurryRatchet about the error resulted in a fully answerless runaround, and by that point Surasshu disappeared from the net. It has been a couple years since anyone has heard from Surasshu, and I've been feeling some guilt. Although I received my raffle prize (with the aforementioned upgrade), the two winners over on FurAffinity never received their prizes.