Character: dogmom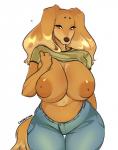 And she is one fine piece of milf!
According to Dog Mom's creator cherrikissu, Dog Mom is a 36 year old hard working saluki who is married to an out-of-the-picture father, and has a profession as a kindergarten teacher. She appreciates cooking, baking, reading mystery novels, and spending quality time with her 3 children, who are a 15 year old son, and two adopted 6 year old twin daughters. She does not exercise commonly, explaining her thick and voluptuous figure, but her hobby of gardening probably makes up for some of it.
Catch her every week on Dog Mom!™, a fantasy sitcom formed by the comments under Dogmom's images on e621.
(Dogmom was created in front of a live audience by cherrikissu .)