Character: entalonus
A character created by Ratte.
Reference-Sheet: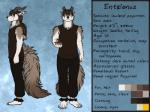 ▼ From the official bios:
[All character bios can be found here]
Name: Entalonus "Talon"
Age: 24
Sex: M
Race: Psycrhen
Species: Lowland
Height: 6'2"
Weight: 200lbs
Occupation: herbalist/shop assistant
Hometown: Kiezet
Home region: Psycrhel
Appearance
- Hair and fur: tan topcoat and blaze, light cream subcoat and face, long light brown hair
- Markings: light tan eye lines, ear rims, and lateral stripe; light brown tailtip
- Eye color: dark red (corrupted), amber yellow (recovered/normal)
- Other features: dark grey horns, light cream shoulder feathers with light tan stripe next to tan tip, bare palms and soles
Clothing/Personal Style: simple and functional with dark earthy colors - dark grey-brown hide pants wrapped around the ankles with linens, grey or brown shirts (often sleeveless), may wear a heavy hide brown jacket with hood; simple wire-frame glasses
Behavior and Personality: shy, timid, softspoken, easily startled
Skills: herbalism, fast learning, good memorization skills
Weaknesses: loud noises, sudden movements, confrontration/fighting
Likes: affection, plants, helping with the shop, Ruun's cooking
Dislikes: hot/humid weather, conflict, being alone
Favorite food: pelmeni
Favorite drink: hot black tea with honey
Favorite location: northwest outskirts of Candor
Favorite weather: mild and mostly cloudy with a cool breeze, dry
Favorite color: phthalo green
Element: none
Weapon: knife
Themesong: Brian Crain - A Simple Life
History: Born to his parents, Nassinia and Phuula, in the settlement of Kiezet of south lowland Psycrhel. Despite being among the poorer families, they seemed generally content. Nassinia followed a considerably radical way of life, at least compared to the status quo of Psycrhel, in that he was openly caring and affectionate with his family, believing that the old way of life caused more harm than good. This was introduced to Talon at a very young age, becoming the norm for his upbringing rather quickly. As the change in lifestyle had just started to be welcomed, Nassinia fell to his death trying to reach a fruit to give to his wife, his passing shocking the settlement, especially Phuula. Unable to properly cope with the loss, she grew distant from her son, falling back to the usual lifestyle of Psycrhel, causing Talon much confusion and internal conflict. He didn't know what to do and he had no friends, so he took his need to care to a small patch of flowers near his family hut. Other children were pushed to try to "temper" young Talon and did so by cruelty-- assault, harassment, and even stomping the flowers he cared so much for. Talon could not handle such a shift in his world and could only bottle up his emotions, which dulled his eyes over time. Eventually came a point where Talon would not leave his house and a forced entry revealed the eyes of the corrupted. Talon was bound, blindfolded, and taken by force past the border into Faradus and dumped off, left to fend for himself in a strange new region.