Species: human
An animal, and possibly the most messed up one known to science, although not considered a furry. You likely were born one.
Humans are the current pinnacle of Simian (Ape) evolution. Humans are, in fact, so very awesome that some will have you believe that they are God's final work.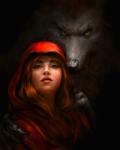 Not to be confused with humanoid.

This tag is applicable for characters who appear to be entirely human (e.g., furless skin, no muzzle, no animal ears or tail, etc.). Characters who resemble humans but are clearly non-human should be tagged as humanoid instead.
Related tags:
See also: