General: infinite devotee
The mythose of Conflicting Worlds contains several "Masters". Most would not see a master as a deity, but a rare few do. They are masters of an element, concept, or skill. One such being is the Master of Infinity.
Those that know or know of Infinite and choose to bare his mark, can be referred to as Devotees of Infinite. You don't need to show his mark to be a devotee however. Like the emblems of other masters, the mark of Infinity can be displayed on one's body, clothing, general decor and more. Each wears his mark for their own reasons and how they choose to express their feelings for him vary widely. They may devote themselves to him on a deep and personal level and mark their body in a more extreme and permanent display. Or, display his mark on clothing or part of their home as a pleasant reminder of his presence, or a means to share knowledge of him with others.
In sci-fi settings, Infinite is often depicted as a corporate leader, with the mark of Infinity stamped on his personal brand in Dracoloup Co. It's seen in the form of tattoos or painted onto ships to show brand loyalty or loyalty to the corporate owner, Infinite himself. Those depicted using the Infinite logo with or instead of the Dragon and Wolf head, do so with more knowledge and support of its founder than casual users of Dracoloup products.
The emblem may be included over or under other emblems of factions the character is aligned with, without denoting the importance of either one.
Not every character that bares the mark subscribes to this mythos. Be mindful of who you tag. If they have been seen with Infinite himself though, they are most likely a Devotee. As per posting rules, this tag only applies when the emblem is visible on some one or thing (other than Infinite himself).
Some, by no means all, examples Include:
Cynder Nightshadow dyed the fur on her back to sport Infinite's emblem.
Silvereyes displays his mark on his collar and cryo branded the fur of his bum for a more playfully intimate touch.
Jessika displays his mark both as a cattle brand on her hip, and on her uniform patch to display being a member of his crew team aboard Sammantra
Shade Fang Shows Infinite's mark on his collar.
Recent Posts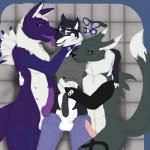 ↑5
♥21
C0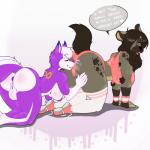 ↑28
♥321
C0
WEBM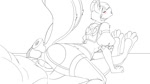 ↑130
♥443
C1
C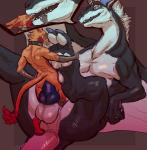 ↑33
♥128
C1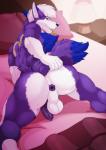 ↑33
♥104
C1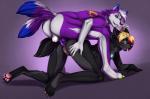 ↑25
♥77
C0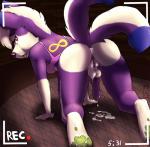 ↑24
♥53
C1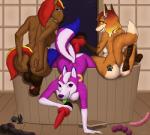 ↑17
♥86
C2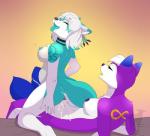 ↑36
♥122
C2
P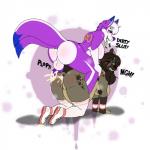 ↑45
♥195
C1