General: mistletoe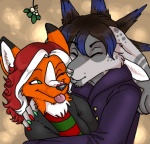 Mistletoe (Viscum album) is a white-berried evergreen parasitic plant, often associated with Christmas. The tradition of kissing under the mistletoe originated with the Roman festival of Saturnalia.
Mistletoe was considered to be sacred by druids, and is still used in contemporary witchcraft.
Often confused with holly, which is entirely different plant. Attempting to kiss someone under a holly is considered bad form.
Related Tags:
See also:
This tag implies the following tags: plant