Character: wolfrun
Wolfrun is a male anthropomorphic gray wolf and an antagonist of the anime show Smile Pretty Cure!.
Appearance:
He has gray fur and long white hair and a long white bushy tail. He has a lithe athletic build. He also has very light violet eyes which can can often be mistaken for blue.
Personality:
He has an easygoing personality, but is easily annoyed, arrogant, and cocky. This usually leads to his defeat by the Pretty Cure group, consisting of young magic using girls. Wolfrun is particularly at odds with the Pretty Cure group, often to a comedic extent. He uses a human form as a disguise and has a unique defining laugh "Uruffufu"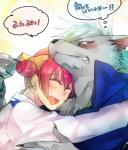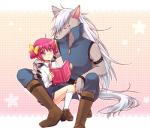 Abilities:
He has exceptional strength, and can change the world into an alternate reality
ANIM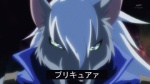 Falcon Punch!
He is often seen wearing his signature blue biker outfit with studded bracelets and leather belt.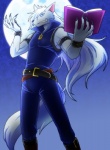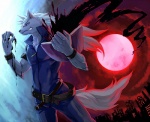 He is one of the four commanders of the Bad End Kingdom. A depressing wasteland, a place of eternal night with an eternal blood-red moon. It is where villains of fairytales reside. At its center, a castle stands where Wolfrun and the rest of the Bad End Group hopes to revive their emperor. However, Wolfrun and the groups efforts are often thwarted by the Pretty Cure group