Species: abomasnow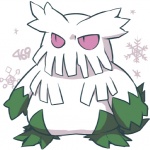 Abomasnow (Japanese: ユキノオー Yukinooh) is a dual-type Grass/Ice Pokémon that resembles a yeti and a tree covered in snow.
It lives on mountains and covers them in blizzards. They are also very territorial. Abomasnow arrive when flowers bloom, and leave to unknown places when they wilt.
Gender difference: Females have thicker fur on their chest.
See Also: