Species: chikorita
Source: http://bulbapedia.bulbagarden.net/wiki/Chikorita_(Pok%C3%A9mon)
Chikorita (Japanese: チコリータ Chicorita) is a Grass-type Pokémon.
It evolves into Bayleef starting at level 16, which evolves into Meganium starting at level 32.
Along with Cyndaquil and Totodile, Chikorita is one of the three starter Pokémon of Johto available at the beginning of Pokémon Gold, Silver, Crystal, HeartGold, and SoulSilver.
Chikorita is a small, pale green Pokémon with a darker necklace of buds. It has a large head in proportion to the rest of its body with large red eyes that appear to have no pupils. It has four short legs with a single nailed toe on each and a small tail. Its most distinguishing feature is the large leaf on the top of its head, which is usually longer than the rest of its body. Aside from the soothing aroma that wafts from its leaf, Chikorita uses its leaf to determine the temperature and humidity of the surrounding air.
Chikorita can be found in grasslands throughout the Johto region. However, due to its status as a starter Pokémon, a wild Chikorita is hard to come by and it is generally found under the ownership of Trainers. Chikorita tends to be docile in nature due to its domestication from birth
See Also:
Recent Posts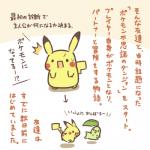 ↑4
♥6
C0
PC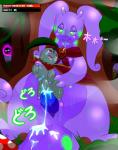 ↑4
♥30
C2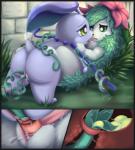 ↑17
♥64
C5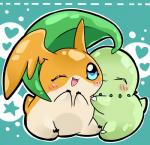 ↑8
♥12
C0
WEBM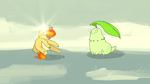 ↑20
♥110
C7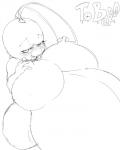 ↑5
♥34
C0
P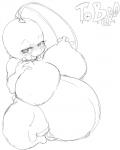 ↑6
♥36
C0
P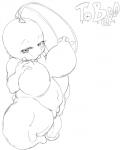 ↑4
♥33
C0
C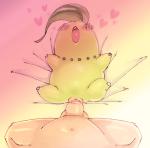 ↑29
♥97
C0
P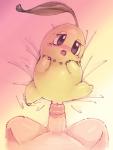 ↑22
♥86
C1
C