Character: fluttershy (mlp)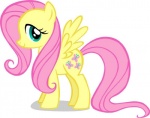 Fluttershy is a female Pegasus pony and one of the main characters of My Little Pony: Friendship is Magic. She lives in a small cottage near the Everfree Forest and takes care of animals, the most prominent of her charges being Angel the bunny. She represents the element of kindness.
She is yellow with long, straight pink hair and light green eyes. Fluttershy is often found in association with animals, nature, singing, and being shy.
Her cutie mark is three butterflies.
See also:
Family: