Species: lanturn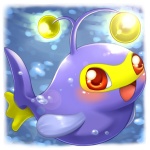 Source: http://bulbapedia.bulbagarden.net/wiki/Lanturn_(Pok%C3%A9mon)
Lanturn (Japanese: ランターン Lantern) is a dual-type Water/Electric Pokémon.
It evolves from Chinchou starting at level 27.
Lanturn is a large, blue fish-like Pokémon with small, blue pectoral fins. It has a yellow "mask" over its red eyes. The lower half of its caudal fin is yellow and has jagged edges. A Y-shaped antenna with a teardrop-shaped orb on each tip sprouts from its back. This structure comes from a modification of its dorsal fin. These orbs contain a colony of bacteria that create a chemical reaction, which generates electricity in a similar fashion to that of a battery. Lanturn uses the bright part of its body to lure fish prey. It then blinds the prey with an intense burst of light, and swallows the immobilized prey in a single gulp. Lanturn inhabits the ocean at depths of over three miles.
See Also: