Species: murkrow
Source: http://bulbapedia.bulbagarden.net/wiki/Murkrow_%28Pok%C3%A9mon%29
Murkrow (Japanese: ヤミカラス Yamikarasu) is a dual-type Dark/Flying Pokémon.
It evolves into Honchkrow when exposed to a Dusk Stone.
Murkrow is an avian Pokémon with black feathers. Its crooked, yellow beak and the three, feathery tufts on its head resemble a witch's nose and hat respectively. The feathery crest is smaller on the female than on the male. It has semi-circular, red eyes with white sclera and pupils and a spiky collar of feathers around its neck. The shaggy feathers on its tail resemble the end of a broom, and there is a thin, red band at the base of the tail. Its yellow feet have four toes, three facing forward and one backward.
Murkrow has a fondness for anything sparkly, and it will steal things such as jewelry to bring it back to its nest. Its fondness for shiny objects go as far as fighting with other Pokémon that enjoy shiny objects, such as Meowth and Persian, to gain their stashes. Whenever it is chased, it loses the attacker by leading it down dark mountain trails, and sometimes it does this to travelers as a mean spirited prank. Superstition regards Murkrow as Pokémon of ominous things to come, and of great misfortune if one is seen at night. It is possible to train a Murkrow to repeat words, as seen under Team Rocket's ownership. Murkrow usually lives in forests or swamps.
See Also:
Recent Posts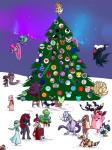 ↑2
♥2
C1
U
WEBM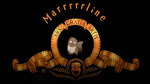 ↑35
♥185
C8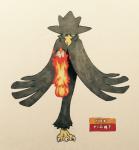 ↑4
♥7
C3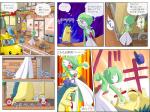 ↑2
♥10
C1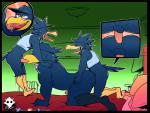 ↑21
♥92
C0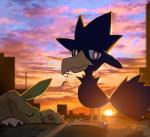 ↑2
♥7
C0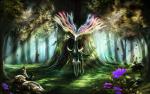 ↑8
♥13
C0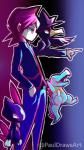 ↑2
♥6
C0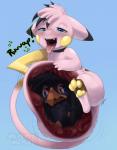 ↑1
♥36
C0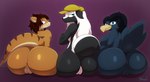 ↑40
♥183
C8