General: sleeping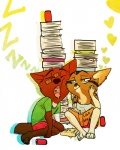 A necessary body function where in which one loses consciousness for a duration of a couple of hours to reduce fatigue. During sleep, almost all bodily organs that are not immediately vital "shut down", giving the body a period of rest. A phenomena called dreaming can occur, where individuals subconsciously experience an alternate life that is created by the brain. Posts that depict sleeping typically show one or more characters lying down in a comfortable position and place with their eyes shut and at times having the 'Z' character over their heads.
If there is intercourse with someone who is sleeping, use sleep sex too.
Not to be confused with tired, where the character is showing signs of lack of sleep, but not actively sleeping yet.
See also: