Copyright: the lion king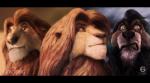 The Lion King is a 1994 American animated feature film produced by Walt Disney Feature Animation. Released to theaters on June 15, 1994 by Walt Disney Pictures, it is the 32nd film in the Walt Disney Animated Classics. The story, which was influenced by the Bible stories of Joseph and Moses, the Epic of Sundiata, and the William Shakespeare play Hamlet, takes place in a kingdom of anthropomorphic lions in Africa. The Lion King is the sixth highest grossing animated film of all time. It continues to be the highest grossing hand drawn animated film in history and belongs to an era known as the Disney Renaissance.
This is also the name of a media franchise that spawned from this film, which includes three sequel films, two television series (including The Lion Guard), and a highly successful Broadway musical, among other works. A live-action film remake will be released in 2019.
Characters:
Lions:
Other animals:
Related:
External: